HWg-STE serie – IP Thermometer WiFi
Voor prijzen
log-in
als Business Partner.
HWg STE Overview: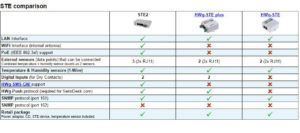 HWg STE2: Plug en play WiFi IP temperatuur monitoring
De HWg STE2 WiFi IP Thermometer meet plug & play temperatuur en luchtvochtigheid via ethernet/internet.
De unit bezit 2x digitale ingangen voor het signaleren van alarm contacten (dry contact).
Er is ruimte voor 3x digitale 1Wire sensors voor het monitoren en bewaken van temperatuur en/of luchtvochtigheid.
De unit wordt geleverd inclusief:
voedingsadapter
temperatuursensor (3m)
Alarmering via e-mail, SMS of SNMP
De HWg-STE stuurt een e-mail wanneer de waarde van een sensor buiten de ingestelde onder- of bovengrens komt.
De tekst van het alarmbericht kan per sensor worden ingesteld. Dankzij een -op elke ingang- instelbare hysterese worden onnodige alarmmeldingen voorkomen.
Met de optionele SMS gateway van HWg wordt ook gealarmeerd via SMS.
Eenvoudige configuratie, resultaten in online dashboard
De oplossingen kenmerken zich door haar plug & play karakter. Het is een totaaloplossing bestaande uit sensoren, gateways, alarmeringsmogelijkheden en dashboarding portal met visualisaties.
De dashboarding mogelijkheden zijn flexibel:
gratis dashboarding tot aan 10 units via sensdesk portal.
Voor grotere installaties is een SensDesk on-premise versie is everbaar. Vraag uw account manager naar de mogelijkheden.
third party compatible software dankzij uitgebreide API-mogelijkheden

Deze HWg serie is uit te breiden met verschillende sensoren en accessoires:
HWg STE: Online Demo
HWg STE Plus: Online Demo
HWg STE2: Online Demo
Highlights
Interfaces
Ethernet: RJ45 (10/100BASE-T), supports PoE (IEEE 802.3af)
WiFi: Internal antenna, 2,4GHz, 802.11 b/g/n (STE2 Only)
Sensors
2x RJ11 (max 3 temperature or humidity probes)
Combined temperature/humidity sensor, temperature sensor for a cooler, outdoor thermometer probe, humidity sensor
Digital inputs (DI): 2x dry contact input
Can be connected: door contact, motion detector, smoke detector, 110/230V power supply detector, water leak detector, fan failure detector
Alarming and data protocols
M2M communication protocols: SNMP (v1 and v2), XML, HWg-Push
Alerts (value out of defined range): Email (TLS), SMS
Text messages (SMS): alerts can be sent as text messages (SMS) via a remote HWg-SMS-GW over the network. No software is needed.
Software
Support for programmers: HWg-SDK
Recommended online portal: SensDesk.com – free online portal
HWg-Trigger: control of other IP devices, alarm redirection to SMS
HWg PDMS: logging, export to MS Excel, reports
Other features
WEB: built-in web server
Power supply: 5V DC (power adapter is included)
Mechanical: Plastic enclosure 65 x 80 x 30 [mm] – can be mounted on a wall or on a DIN rail
Warranty: 2 years
Toepassingen
Remote environment monitoring in laboratories
WiFi temperature monitoring at remote locations, without network cables.
Remote monitoring of environment and machinery in industrial production
Temperature monitor for machines, digital inputs detect the states of the machines. Can be connected to a central SCADA monitoring system. Thanks to the wireless link, the Wifi temperature monitor can be placed anywhere at the production facility.
Freezer/cooler monitoring
Our special temperature sensors for use in refrigerators monitor the temperature in freezing and cooling compartments. The digital thermometer can monitor the storage of medicaments, meat, or other foodstuffs. Sends a TLS email alert if the refrigerator door is open for too long, or the temperature is too high or too low. Logging in the PDMS application or the SensDesk online service.
Remote A/C monitoring
STE thermometer monitors the temperature at the air conditioner outlet. Detects A/C malfunctions or power outages. Rising temperature points to a failure of the A/C unit.
Environment monitoring, power outage detection
Server room temperature sensor function. Thanks to PoE ieee 802.3af support, the wifi termometer can be powered from a UPS and works even if the power is out.
Surveillance (camera) systems
Sensor readings and detector states can be fed to IP camera systems of various brands.
External detectors (door contacts, PIR, smoke detectors etc.) can be connected to the digital inputs of the STE thermometer.
Temperature monitoring at several places
Several STE(2) units can be linked to a single account at the SensDesk.com online portal. All readings are accessible anywhere using a web browser or a mobile app for Android and Apple.
Food storages
Oversees optimal storage conditions. With application software, HACCP reports can be created.