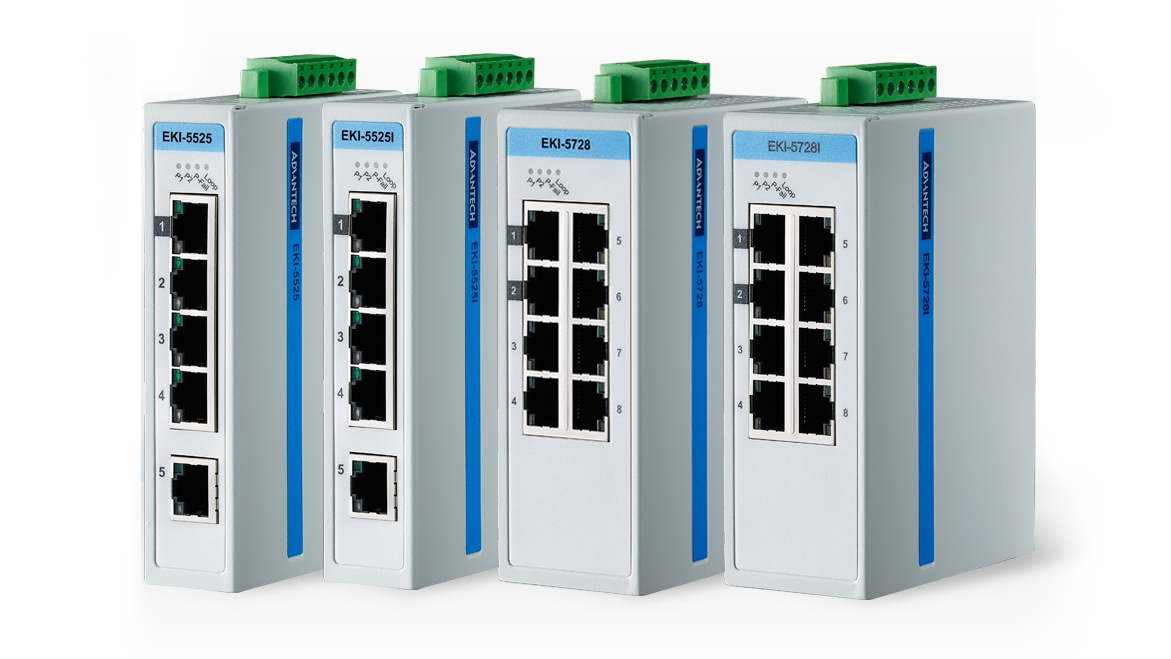 Advantech monitored switches: EKI-5000 serie
De Advantech EKI-5000 serie van monitored switches is het eerste ontwerp voor een Ethernet Green® switch.
Deze Energie Ethernet switches kunnen het energieverbruik met wel 60% verminderen.
Met deze switches kunt u de totale energiekosten over een jaar aanzienlijk verminderen.
De Advantech EKI-5000 serie monitored switches kunnen ook worden gebruikt als plug & play unmanaged switch.
De installatie van de iView² Network Management Software geeft de switches ook mogelijkheden voor elementaire monitoring en beheer.
Ze overbruggen de kloof tussen unmanaged switches en de duurdere volledig beheerde oplossingen (managed switches).
Wanneer u iView2 heeft geïnstalleerd kunt u de switch detecteren in uw netwerk door middel van een statisch IP-adres of een adres dat is vindbaar via DHCP in het netwerk.
De switches bieden tegelijkertijd de mogelijkheid om Modbus / TCP gebruiken voor communicatie met HMI / SCADA software en SNMP communiceren met NMS (Netwerk Management Software).
Deze switches zijn dus volledig toegankelijkheid voor zowel de 'control engineers en de IT-managers.
KENMERKEN VAN DE ADVANTECH EKI-SERIE
rugged industrieel design
eco-friendly
wide-temperature range (-40 tot 75°C)
brede certificeringen (EMC Levels 3 and 4, Class 1 Div 2/ATEX Zone 2/ IECEx, NEMA TS2, EN50121, DVN, IEEE61850-3, IEEE1613)
Unmanaged, monitored en fully managed switches
MCS levert het complete assortiment industriële switches van Advantech:
MCS SUPPORT EN RADIO ENGINEERS
MCS support engineers hebben jarenlange ervaring met complexe communicatie in industriële netwerken. Als u vragen heeft, mail dan ons verkoopteam.