Private Connect Router Solutions: router as a service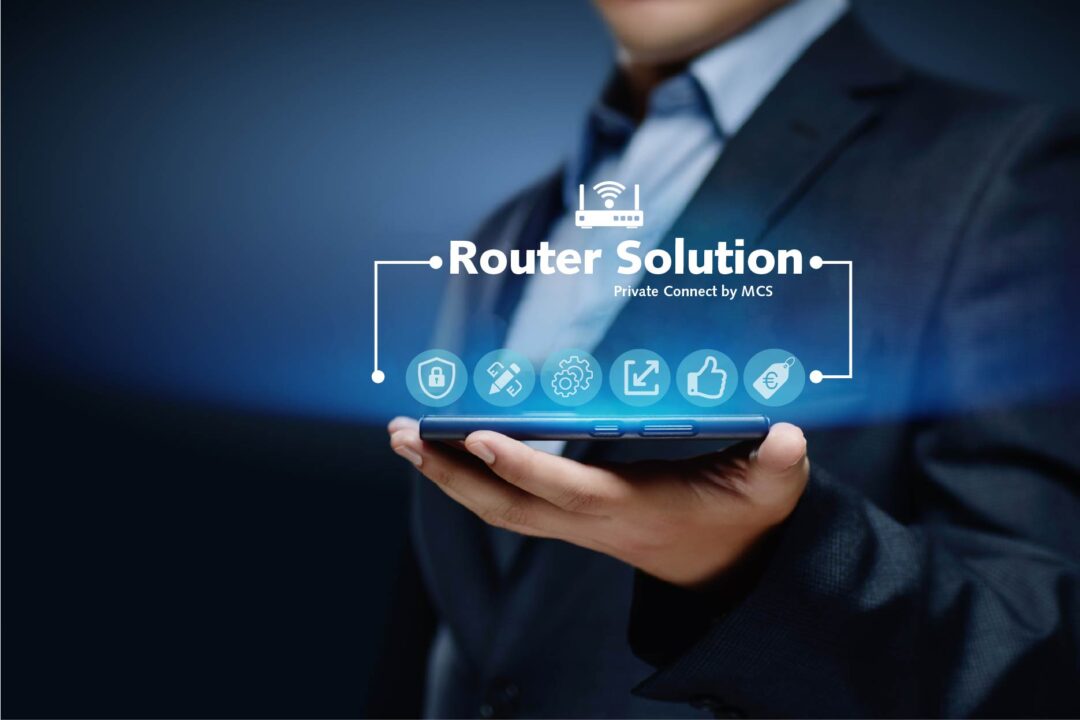 Naast managed LoRa-, LTE- en NB-IoT-netwerken as a service, biedt MCS nu ook all-in-one routers in een abonnementsvorm aan. Private Connect Router Solutions.
De combinatie van 4G/5G hardware en connectiviteit biedt organisaties een snelle en stabiele internetverbinding. Altijd en overal – zelfs als de vaste verbinding wegvalt.
Private Connect Router Solutions maakt betrouwbare failover en back-up toepassingen mogelijk voor diverse segmenten zoals retail en infra. Ook zijn er oplossingen met unlimited 5G of dual SIM mogelijkheden.
INHOUD PRIVATE CONNECT ROUTER SOLUTIONS
Bij een managed LTE of 5G-routeroplossing ontvang je alle onderdelen voor een succesvolle routeroplossing voor een vast laag bedrag per maand.

ALTIJD VERBONDEN MET ROUTER AS A SERVICE
Onze LTE en 5G routers as a service zijn heel geschikt als mobiele back-up/failover van DSL routers. Zo heeft jouw organisatie gegarandeerd een betrouwbare verbinding, zelfs als de vaste verbinding wegvalt.
Stabiele internetverbindingen zijn cruciaal voor o.a. werken in de cloud, IP telefonie, orderverwerking en betalingstransacties via pinautomaten. De Advantech en Teltonika routers van Private Connect detecteren automatisch het wegvallen van de vaste lijn en schakelen naadloos over naar de mobiele verbinding.
Met een dual SIM oplossing ben je gegarandeerd van failover als de SIM-kaart van provider x uitvalt.
Met onze Private Connect routeroplossingen kun je blijven werken zonder onderbrekingen.
WAAROM KIEZEN VOOR EEN ROUTER AS A SERVICE?
Met de MCS routers as a service profiteren gebruikers van veel voordelen, zoals:
Plug & play combinatie van hardware, accessoires, connectiviteit en SLA met eenvoudige installatie;
Volledig ontzorgd omdat MCS engineers de complexe configuratie voor jou uitvoeren en jij direct met een werkend product aan de slag kunt gaan;
Beheer jouw routeroplossing eenvoudig op afstand met de online portal;
Krijg telefonische en online support van onze engineers bij vragen zodat jij je kunt focussen op jouw bedrijfskritische zaken die echt belangrijk zijn;
Geen investering nodig dankzij ons abonnementsmodel met een vast laag bedrag per maand.
PRIVATE CONNECT ROUTER SOLUTIONS VOOR DIVERSE BRANCHES
De Private Connect managed routers van MCS worden in veel verschillende branches gebruikt, zoals: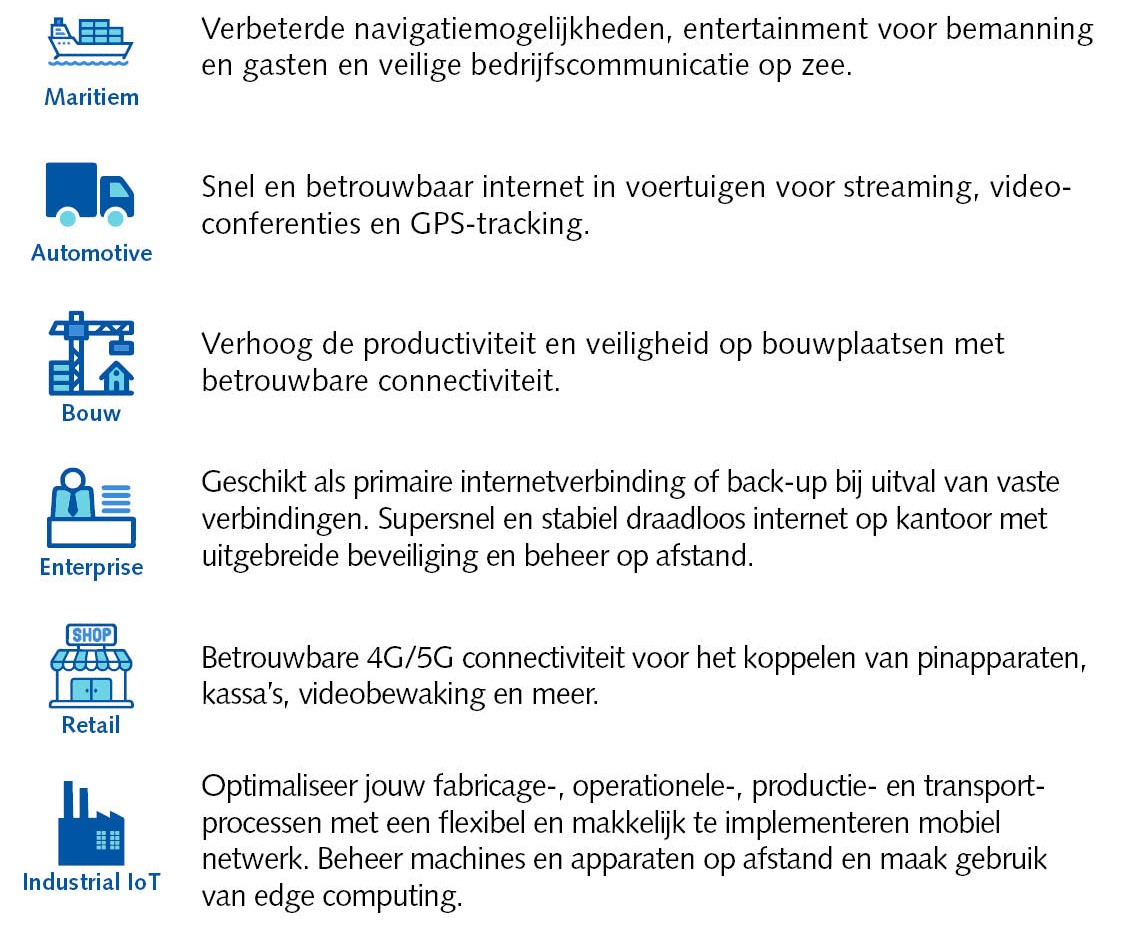 SERVICE LEVEL AGREEMENT (SLA) INBEGREPEN BIJ ROUTERS AS A SERVICE
| | |
| --- | --- |
| Online support | 24*7 via Partner portal |
| Telefonische support | Kantooruren, gratis |
| Remote Access tot mobiele router | Ja, 24*7 |
| Remote Access tot SIM-kaart | Ja, 24*7 |
| Reactietijd | 4 uur, gedurende kantoortijden |
| Actieve monitoring | door Partner |
| Actieve alarmering | door Partner |
| Vervanging defect unit | Ja |
| Kosten interventie op locatie | Ja, via support pack |
| Software updates | Ja |
| Software upgrades | Nee |
| Incident rapportage | Ja |
Lees de exacte voorwaarden door de SLA te downloaden bij 'Product Info'.
Complexe configuratie op maat
MCS engineers verzorgen de complexe configuratie van de hardware voor jou op maat. De devices in de all-in-one routeroplossing zijn dus plug & play en kunnen direct door jou worden ingezet.
Onze engineers configureren de volgende onderdelen standaard:
Instellen van de APN in de router
Plaatsen van de SIM-kaart
Opzetten van één of meerdere SSID's en WiFi-netwerken
Instellen van de security policy
LAN/WAN instellingen
Instellen van de data cap in de router
Instellen van de data cap in de SIM Management Portal
Firmware upgrade
Complete op maat gemaakte configuratie met partner en/of eindklant
Introductie gesprek met partner en eindklant
Remote en on-premise pre-sales ondersteuning door een MCS engineer
Remote projectmanagement van gecertificeerde engineers
Toevoegen en/of verwijderen van accessoires of onderdelen zoals antennes, voeding, kabels of andere hardware
ALL-IN-ONE ROUTER
Onze Private Connect Advantech en Teltonika routers as a service worden ook als all-in-one routers geleverd voor een eenmalige investering.
MEER WETEN
Ben je geïnteresseerd in Private Connect Router Solutions met LTE (4G) of 5G voor jouw organisatie? Neem dan contact op met ons verkoopteam. Zij staan klaar om je te adviseren en een oplossing te bieden die perfect aansluit bij jouw behoeften.