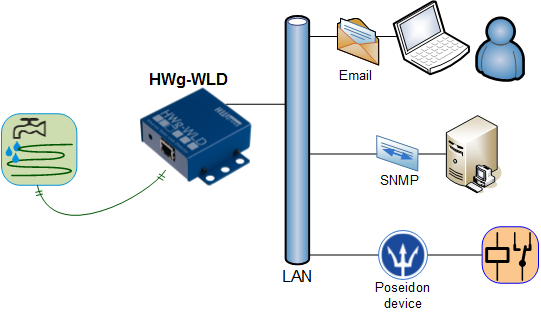 Waterlekkage kan vervelende gevolgen hebben. MCS heeft eenvoudige en doeltreffende stand alone oplossingen voor waterlekdetectie.
Slimme waterlekdetectie
De IP Waterdetector HWG-WLD traceert waterlekkage langs de 85m lange sensorkabel. De sensor reageert op kleine hoeveelheden water, ethyleenglycol, condensaat of andere geleidende vloeistoffen. HWg-WLD bevat een webserver. Alarmeringsberichten worden verzonden via SNMP of e-mail. Daarnaast kan de sensor een relais uitgang van Poseidon of Damocles productfamilie activeren (box-2-box mode).
Afhankelijk van de versie kun je via NB-IoT, LTE, IP of WiFi het systeem aansluiten. Ook afhankelijk van de versie kan het systeem uitgebreid worden met meerdere sensoren.
SLUIT JE APPARAAT AAN OP DE ONLINE SENSDESK PORTAL
Deze producten kunnen als totaaloplossing geleverd worden inclusief een online SensDesk portal. De SensDesk portal is de plaats waar al jouw sensordata samenkomt. Hier kun je bijvoorbeeld de temperatuur bewaken van ruimtes. Of krijg je een alarmering als er een waterlek is gedetecteerd in je serverruimte.
Alles is eenvoudig in te stellen. Je hoeft alleen maar jouw sensoren op het netwerk aan te sluiten, een account aan te maken en te beginnen met het remote monitoren van jouw processen! Met SensDesk kun je eenvoudig grenswaardes voor jouw veilige limieten instellen, je sensoren in groepen en locaties rangschikken, waarschuwingen aanmaken en jouw hele monitoringsysteem beheren. En nog veel meer.
Bekijk de www.sensdesk.nl website voor meer info inclusief veel voorbeeldfilmpjes.
Toepassingen
IT / Datacenters
Kantoorgebouwen/ Office buildings (lekbakken of bovenop systeemplafonds)
Pijpleidingen monitoring
Plantenbewaking
Tankbewaking