MCF LW22PLG – smart energy plug with on/off LoRa
De MCF LW22PLG is een LoRaWAN Smart Energy plug. Hij stelt de gebruiker in staat om enerzijds het verbruik van een 230Vac aangesloten toestel te monitoren en anderzijds het aangesloten toestel aan en uit te zetten.
Het product is voorzien van een interne back-up batterij waardoor spanningsonderbrekingen eveneens gerapporteerd kunnen worden. Het maximale ampère die de SmartPlug kan schakelen is 16Amp/230Vac.
Alle technische informatie vind je terug in de datasheet.
Smart Energy Plug op basis van LoRaWAN
Dit is een Class C LoRaWAN device die continue luistert naar download berichten. Verder bevat het device 2 LED's die de netwerkstatus aangeven (NC geen LoRaWan configuratie, Joining, steady succesvol verbonden, uplink) en de staat van de 230Vac output (Output ON/OFF).
De industriële versie van dit product is ook beschikbaar (artikelnummer: 129008).
Optimaal resultaat van deze Smart meter plug sensor met Private Connect LoRa
Deze plug werkt via het LoRaWAN protocol. Met een eigen Private LoRa netwerk creëer je eenvoudig de perfecte Internet of Things infrastructuur waarop je deze sensor kunt aansluiten. Door jouw eigen, beveiligde IoT-infrastructuur ben je zelf volledig in controle.
Met Private Connect LoRa levert, installeert en onderhoudt MCS jouw Private LoRa netwerk voor een vast bedrag per maand, ongeacht het aantal sensoren wat je aansluit. Hieronder zie je hoe de omgeving van een Private Connect LoRa netwerk eruit ziet.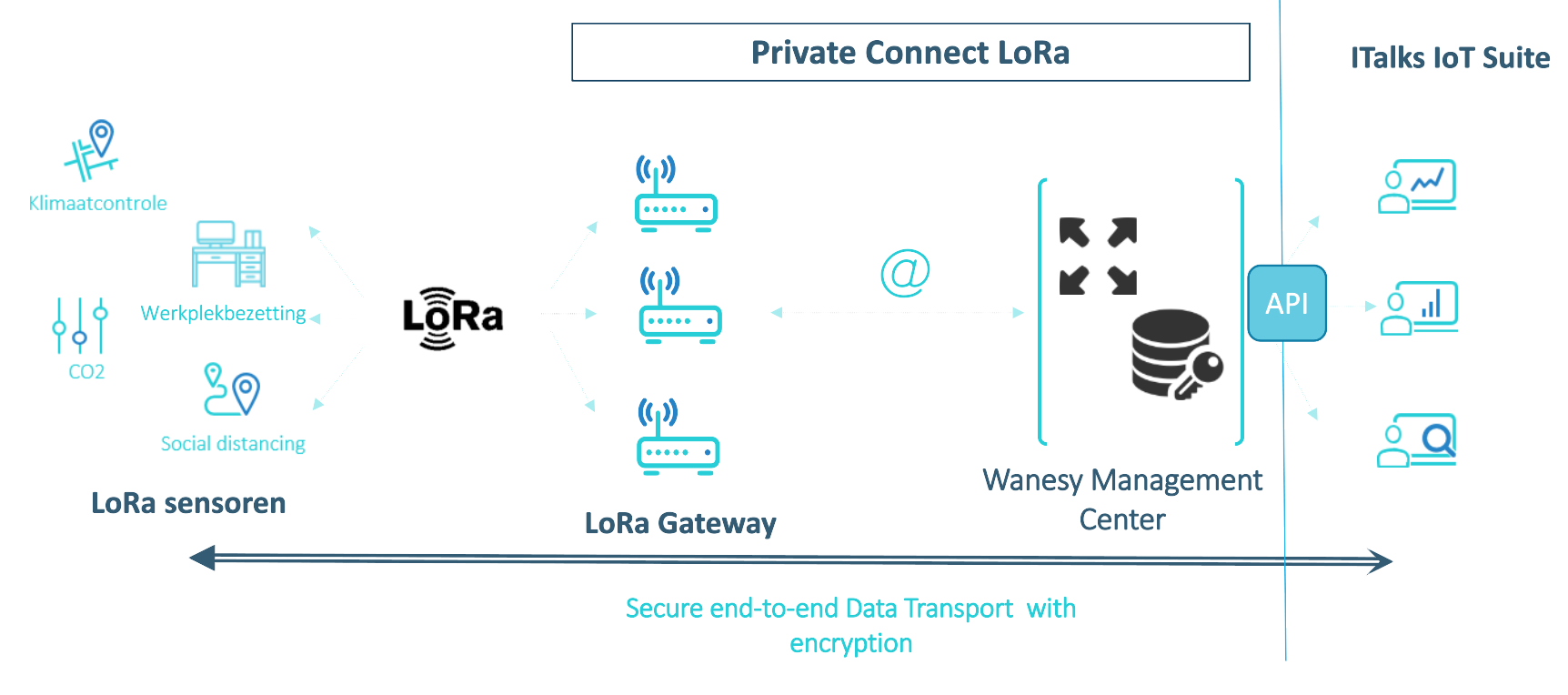 Toepassingen
Energieverbruik monitoring
Stroomuitval alarm
Aan/uitschakelen van apparaten op afstand